Information
Smart Software is the oldest part of this website with programs for Windows to create and send operatorlogos, group graphic symbols and picture messages for older Nokia mobile phones.
A private registration for all three programs Group-Graphic Editor, Operator-Logo Uploader and Picture-Message Editor together is available for only EURO €15 or US $15, please support my work and register online!
Group-Graphic Editor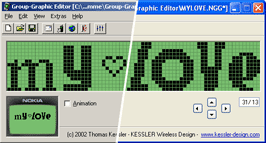 I am proud to present the smartest Group-Graphic Editor worldwide which can send graphics to many Nokia phones. Also normal and big operator-logos can be created and edited.
More details on the Group-Graphic Editor page.
Current version: 1.3.4
Operator-Logo Uploader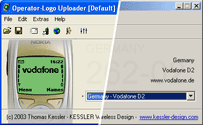 I am also proud to present another smart tool, the Operator-Logo Uploader which can send logos to many Nokia phones. Also big logos can be sent.
More details on the Operator-Logo Uploader page.
Current version: 1.2.8
Picture-Message Editor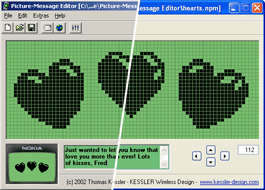 I am again proud to present the latest smart tool, the Picture-Message Editor which can send picturemessages with your own text to many Nokia phones.
More details on the Picture-Message Editor page.
Current version: 1.0.3
Ringtone Editor, ...
Other projects are 'frozen' at the moment. Check back for news from time to time. Please do NOT send any emails about details or release-date, I won't answer those.
OESort
Are you looking for my Outlook Express Contacts Sorting utility? OESort is a small but powerfull program which sorts the Contacts pane in the bottom left corner of Outlook Express in various ways. Find it right here, free download.