Picture-Message Editor
I am again proud to present the latest smart tool, the Picture-Message Editor which can send picturemessages with your own text to many Nokia phones. These messages contain a graphic (72x28) and your own text, max. 121 chars.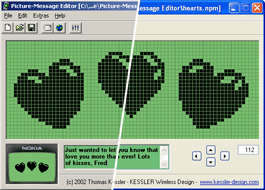 Read my constantly growing FAQ for a list of compatible phones, more information about features, requirements and other interesting topics and visit my big showroom to see a lot of downloadable samples.
The program is released as Shareware and you have to register it after 30 days. An evaluation version is available for download.
Create and edit your own picturemessages in a very comfortable way

Send picturemessages as SMS to anybody

worldwide via your gsm-phone
Receive Sending Status Report *
Own file-format (.NPM) and registered own filetype
Reads all known Nokia graphics formats (.NGG/.NOL/.NLM/.OTB/.GMS/.NSL/.WBMP/..)
Import various other formats (.BMP/.GIF/.JPG/.ICO/.RLE/.WMF/.EMF) *
Send current graphic to Group-Graphic Editor or Operator-Logo Uploader
Copy graphic to clipboard for later use *
Paste graphics from clipboard

Monitor clipboard

for graphics and auto-import them (very nice feature)
Export graphics for later use or for

WAP

(.BMP/

.WBMP

) *

Drag & drop

or double-click in explorer or click in browser for loading
Effects like Invert, Flip Horizonal, Flip Vertical
Choose destination number from your phone's phonebook *
Save and load phonebook on local harddisk for later use *
Test COM-port for compatibility
Read SMS-Center Number from phone
Remembers last used destination number and files
Windows 95, 98, ME, NT 4.0, 2000 and XP compatible
Style support with Windows XP
Without registration you can not use the features which are marked with a * sign.
If your innovative company is interested in my smart work, then please contact me. Looking always for interesting jobs...